Food & Nutrition Education
The New Mexico poverty rate is mirrored in Roosevelt County. The residents of this county recognize that the low income populations face numerous problems associated with inadequate nutrition. They share the state concerns that these individuals often make poor food choices, which can lead to chronic disease problems such as diabetes, obesity and heart disease. There is a need to educate low income families and individuals to maximize their resources to improve their nutritional status. The youth of Roosevelt County also fall into the above category. Roosevelt County residents share the concern that these youth should learn healthy eating and food management practices early in life for optimal health and disease prevention.
Roosevelt County residents recognize that five of the 10 leading causes of death are associated with diet: coronary heart disease, several types of cancer, stroke, diabetes, and high blood pressure. They also share the national concern as outlined in the State Situation about nutrition, diet and human health. Obesity, a risk factor in all leading causes of death, affects 30% of women, 15% of men, and 25% of adolescents, with the highest rates observed among low-income and minority groups. There is a need to provide education to show an interrelationship between nutrition and health.
Farmer's Market Recipes
Simply Prepared Meals and Menus
Additional Program Handouts
Somewhat Homemade Cooking School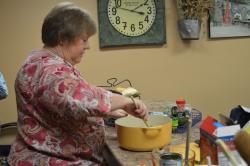 Home cooked meals? No time to cook? For many people, cooking seems like a serious chore. It seems much easier to just order some takeout food, stop at a restaurant, or pop a ready-made meal into the microwave. It's not so much a matter of laziness, but of time. A lot of people have overstuffed schedules and often feel there is no time to devote to food preparation
Connie Moyers, Roosevelt County Extension Home Economist shares techniques for combining fresh ingredients with specially selected store bought items or convenience foods in her "Somewhat-Homemade" Cooking Recipe Book. Whether you call it semi-homemade, shortcut cooking or almost homemade the results--mouthwatering meals and desserts, prepared in minutes that taste like they were made from scratch. Connie shares tips and hints for quick "Somewhat Homemade" meals prepared in minutes which taste like they were made from scratch. As a bonus, attendees were able to taste the recipes prepared and take home a recipe booklet to assist them in putting these recipes and tips into practice for family and friends.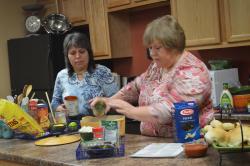 Home Economics Resources
Extension Resources: